8th October 2022 18:45 - 9th October 2022 00:30
The Boatyard, Leigh on Sea, Essex, SS9 2EN
We are delighted to announce a new event for the station – 'An Evening with Southend Lifeboat'.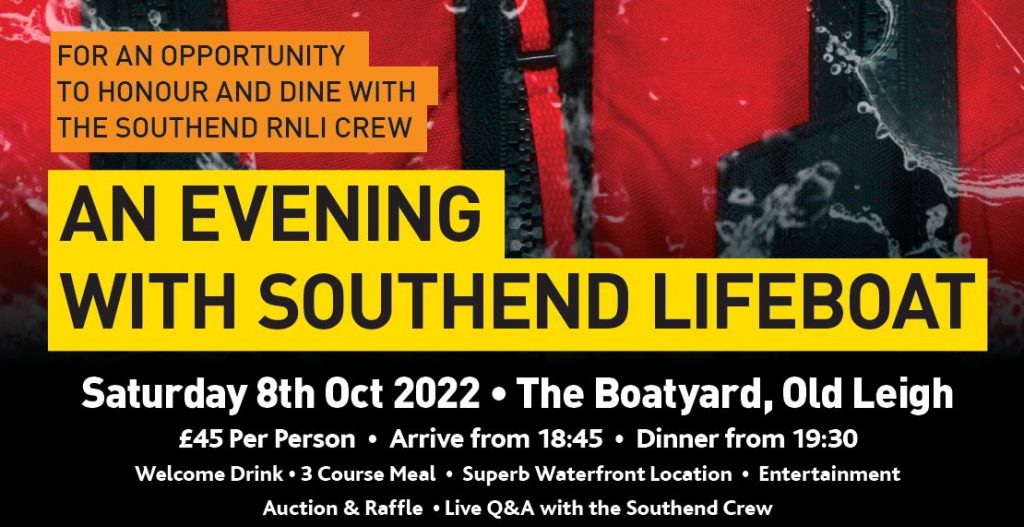 You are invited to join our first 'An Evening with' for an opportunity to honour & dine with some of the Southend Lifeboat crew and members of the Southend Branch.
With welcome drinks, an auction, raffle and DJ to finish the evening. To make the event a true experience, we shall be hosting a live Q&A with a select few helms/crew from the Southend Station, so get your questions at the ready!
You are welcome to purchase an entire table, or you can purchase individual tickets, where you will be placed together with likeminded people to make up a larger table.
For tables over 8, you will have the opportunity to 'buy' at crew member for the evening, where they will dine on your table with you and your guests, answering any questions you may have.
Date: Saturday 8th October 2022
Time: Arrive from 18:45, Dinner for 19:30, Carriages at 00:30
Location: The Boatyard, Leigh on Sea, Essex, SS9 2EN
Price: £45 a head
There are 4 options for starters, main and dessert – the menu can be found here. Your dining options will be taken after payment has been received, but no less than 14 days prior to the event.
*PLEASE NOTE – BOOKINGS ARE NOT CONFIRMED UNTIL PAYMENT HAS BEEN RECEIVED*
To book your places, please confirm your quantities please:
Standard Ticket

For reservations over 8 , you have the option of 'buying' a Southend Lifeboat Helm/Crew Member for the evening, this can be done by selecting the option below:

Once you have completed adding items to your basket, please complete your order by clicking here, or selecting 'Cart' wording above.